| | |
| --- | --- |
| | Volume 7, No 7 - July, 2002 |
President -

Vice President -

Treasurer -

Secretary -

Webmaster -
Founder -

Editors -

SIG Coordinator -
Membership Information
Membership is open to all those interested in machining metal and tinkering with machines. The purpose of the club is to provide a forum for the exchanging of ideas and information. This includes, to a large degree, education in the art of machine tools and practices. There is a severe shortage of written information that a beginning hobbyist can understand and use. This makes an organization such as this even more important.
Business Meeting
Minutes are sent via email or regular mail to club members.
Regular Meeting
1:00 p.m., May 11, 2002 at Collier Library, 6200 Pinemont, Houston, Texas, President Dennis Cranston presiding. There were 32 attendees, including visitor Tom Wright. Nominations/elections were held for 2002/2003 officers. Results follow:
President - Tom Moore (by acclamation)
Vice-President:- Chuck West
Treasurer - John Hoff (voluntary second term)
Secretary - Joe Scott
Web-Master - Dick Kostelnicek (voluntary second term)
SIG Coordinator - (new position) Dennis Cranston volunteered to serve as temporary special interest group coordinator pending other people to lead the CNC. and Foundry groups.
It was decided that each special interest group would provide a presentation for the coming year.
Moving
Charles Hilton is moving to Connecticut. We hope he continues sending in his dues.
Presentation
Ball and ACME Screws as used in Home-Brew Machinery
Jan Rowland, HMSC member, gave a slide show of some ingenious and impressive custom-built machinery that he fabricated in his home shop. Some of his machines are at work in Great Britain. Nice to hear of exporting machinery for a change!

---
Show and Tell
| | |
| --- | --- |
| Ed Gladkowski demonstrated an indexing attachment that he designed and built for his lathe's spindle. It is based on the sine bar principle. | John Hoff showed a nice 5-C collet chuck that he made for his lathe. He also showed a slide press for a work-in-progress custom fabrications machine he is building for forming aluminum rod into fiber optic luminary holders. |
| | | | |
| --- | --- | --- | --- |
| Dick Kostelnicek brought a Parker cone gauge used to measure the diameter and cross section of O-rings. | Alan May showed an inexpensive DRO. that used a plastic digital caliper mounted with super magnets salvaged from a hard drive. He also brought iron-on transfer film used in circuit board etching. | Doug Chartier showed an all stainless flexible gooseneck mount he ebayed, and tailgate hinges with lock rods he is restoring for a 50's Woodie Buick Roadmaster. | Ray Ethridge showed a fine flywheel that he sand-cast and machined from his own home brew ZA-12 alloy, as well as pictures of the alloy ingredients and his homemade furnace in action. |
| | | |
| --- | --- | --- |
| Joe Williams showed a 5C collet adaptor for machining plastic rings for a honey do project, and a set of gear pitch gauges. | Richard Pilcher spoke on further adventures in replacing a gear on his lathe. | Art Volz showed a nomograph book for machine-fabrication from weldments, an antique Bridgeport C head cover, and another of his no weld creations - this one a chuck spinner made from a water faucet handle. |
Metal Casting Group
We discussed Ray Etheridge's homemade ZA-12 alloying from junkyard zinc dicast, aluminum and copper. It looks like an economical way to get ZA-12. The group pour on July 6th at Zube Park (HALS- the train place) was confirmed. We'll be casting some switch components for HALS starting around 9:00 a.m. Everyone is invited to observe and comment.
From out of the Past
Bottom

It has three non-swivel casters. What is it ?

Top

Hint:
Think
window
sticker!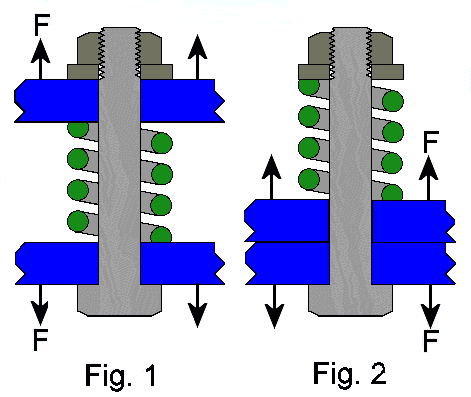 Two plates are fastened together by a bolt, spring, washer, and nut. In both figures the nut is torqued till the bolt tension is 2000 lbs. The spring is not fully compressed. A force F = 1800 lbs is applied to both plates in a direction that tends to separate them.
What is the new bolt tension in each figure? The yield strength of the bolt is 3000 lbs. Will failure occur? If a bolt yields, where will it likely occur?
If the spring represents a compliant gasket between an engine cylinder and its head, would a metal-to-metal seal be preferable?
Send your answers to webmaster@homemetalshopclub.org. We'll publish the best and the worst answers in the next newsletter
by Dick Kostelnicek - HMSC Member

Featured Articles
Foot Actuated Welder Control
by J. R. (Joe) Williams - HMSC Member
A foot actuated control housing was fabricated from two sections of aluminum channel, 1-1/2 x 3 x 10 in. long. It uses the potentiometer from a hand actuated control. Originally the unit was designed to be operated by thumb pressure with the control unit clamped to the torch handle. It didn't take long to decide that a foot operated switch was preferable. After pricing a commercial switch from Lincoln Electric, I decided to make my own.
The electrical connectors are type AN. The large vertical spring is for pedal return. A 1/4 inch roller chain goes under and around a horizontal roller, and is attached to a section of gear rack that can be seen at the lower left. When the pedal is depressed, the chain moves the rack which rotates the control potentiometer by a small pinion gear. At the same time, a micro switch, located at the end of the rack, initiates the welder's control system.
A small spring returns the rack to the OFF position, since you can't push on a chain.
The foot switch can be used with stick welding where it simply turns the power ON and OFF. For Tungsten Inert Gas or TIG welding; it turns on the power, the high frequency starting voltage, and the shielding gas. It could also control the cooling water if my welding machine was so equipped. I need to add non slip material to the housing's top and bottom surfaces, but this has worked as is for the past 14 years.

---
Horizontal Turning in a Vertical Mill
by J. R. (Joe) Williams - HMSC Member
I motorized my rotary table and bolted it to the vertical mill's table in order to machine a 14-3/8 inch diameter x 1 inch thick PVC flange. The flange is a special spacer for an electronic test unit. The part was too large for my lathe and still too big for the X-Y movement on the CNC mill. The drive is made from a small gear head motor connected to the table's input shaft with two small universal joints and powered via a variable transformer that feeds a diode bridge rectifier.
With this setup I can mill and drill the flange provided I do things in the right sequence. I milled the plywood's top surface before bolting the PVC stock to the table. The plywood and PVC section were both piloted to the center of the table and bolted in place. The work's center was located and the mill's control system set to zero at this location. The next operation was to mill the outer edge and the step on the flange. Then, bolt holes in the flange were drilled and bolts installed to secure the outer section of the flange to the plywood sub base while the inner cut out was made. This produced a flat flange with a concentric center hole. The last step was to turn the flange over, bolt it to the plywood and machine a radius on the OD. Unfortunately, the drive had to be disconnected to use the rotary table's hand wheel for spacing the bolt holes.
The table and cutter both rotate clockwise to produce infeed cutter action. With the table rotating into the cutter, there is no problem with backlash or the cutter climbing onto the work. I used an air powered spray unit with a water soluble oil solution to prevent welding of the PVC chips to the work and cutter.
The unit would be able to handle aluminum with no problem but might be a little light for steel.
Ed Note: I use this method to turn my truck's disk brake rotors with a fly cutter since I have only a 10 in. lathe.

---
Scrap Yard Air Compressor
Joe Guidry - Jennings, LA

Here's my home-made air compressor that I built from things picked up at a scrap yard. The compressor is from a large truck, air tank from an airplane, motor had bad bushings, and the base is made from angle iron pieces of unknown origin. I had to buy the pressure switch and quick connect air chuck. Everything else was scrap yard reborn. It will get up to 165 psi. It uses only 16 x 16 in. of floor space so it fits well inside my shop. Also, it doesn't make much noise nor condensate. I have two other commercial compressors. One of them, a Gardner Denver, makes a lot of noise.
The next meeting will be held on Saturday July 13, 2002 at the Collier Library 6200 Pinemont, Houston, TX at 1:00 p.m. Bring along a work in progress to show.

Visit Our Web Site
homemetalshopclub.org
Right click below then select [Save Target As...]
From Netscape select [Save Link As..]
Microsoft Word version of this newsletter 296 KB